Brooklyn Heights - LOCATION
If you are looking for a home outside of Metro Manila, Brooklyn Heights in Guiguinto, Bulacan is the ideal choice. The developers at New Apec Homes consider it to be a strategic location. It is roughly an hour's drive away from Manila. Therefore, it offers the convenience of being able to travel to and from Manila without the need for a long drive. And yet, it allows you to escape the chaos of city living by moving into this quiet and peaceful retreat.
Guiguinto in Bulacan is a first class urban municipality. It is located within the province of Bulacan. There are more or less 100,000 people that call this municipality home. It is also one of the fastest-growing municipalities in Bulacan. There was a time wherein agriculture was the main source of economy in Guiguinto. However, there has been a diversified economic source over the past few years as it is now becoming more urbanized. It now belongs to the Metro Manila conurbation.
There are 14 political barangays that comprise Guiguinto in Bulacan. Brooklyn Heights is located in Tuktukan, which is right in the middle in terms of population growth. But this population rate is expected to grow especially with the advent of new real estate developments such as Brooklyn Heights in the area. More people are going to want to move into this municipality in the hopes of finding a peaceful community to live in outside of the high density population of Metro Manila.
There are also plenty of public transportation options in Bulacan, which should make traveling to and from Metro Manila (or other nearby provinces or cities) hassle-free. This housing development is also one jeepney ride away from the newly built Philippine Arena – the largest coliseum or indoor venue in the Philippines. It is also one ride away from other key points of interest in Guiguinto, Bulacan.
Guiguinto, where Brooklyn Heights is located, is fairly accessible from major thoroughfares such as the North Luzon Expressway (NLEX). From Guiguinto, the Tabang Toll Gate is 6.8 kilometers away and the Balagtas Interchange is 1.9 kilometers away. There are also several banking institutions nearby such as Bank of the Philippine Islands (BPI) in Guiguinto or Metrobank in Poblacion, Balagtas.
If you need to buy grocery items for your home or do some shopping, you do not have to go to Metro Manila. Some of the top supermarkets that are located close to Brooklyn Heights include Puregold Guiguinto, Robinson's Balagtas, and South Supermarket Guiguinto. For those who are starter or growing families who decide to live in Brooklyn Heights, you should be pleased to know that there are plenty of options for schools to take your child to. In Guiguinto alone, you have two good options: St. Martin De Porres Catholic School and Guiguinto Vocational High School. There are other school options in nearby areas such as Bulacan State University and La Consolacion College.
Finally, when you are looking for a health care facility nearby, you can also get the medical attention you, or your family, deserves. Guiguinto Hospital and Polymedic Hospital are both excellent options.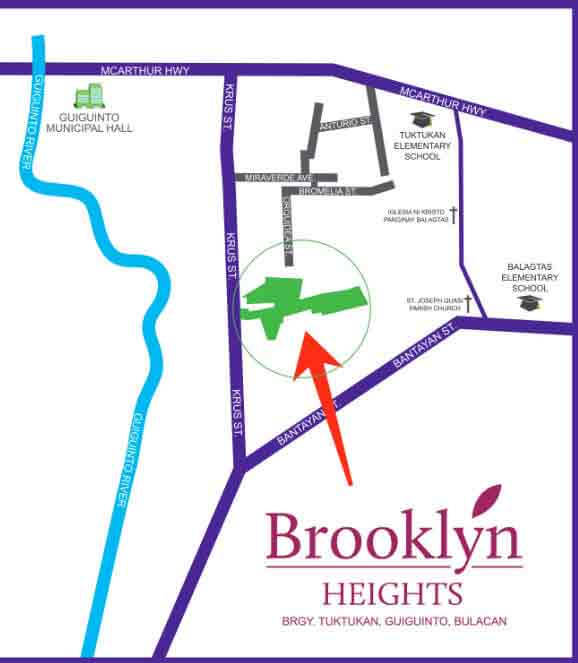 Brooklyn Heights' hosts an array of life changing experiences for you and your family. Rejuvenate your senses and savor the fresh air and panoramic scenery that Bulacan offers. Accessible through reliable mode of transportations, one can still enjoy travelling to Manila and back with such ease and comfort. But most of all, treat yourself and your family the pleasure of having a home to start a blissful life with. Because at Brooklyn Heights, it's more than living, it's life changing.